Zingora Vocal School
Weekend Zingora
Vocal School  2022
August 11. – 13. 2023
Rhinebeck, New York, USA
"Live, human-to-human, creative musical processes bring power to the planet."
– Iva Bittová
Building Community through Music and Nature
The ethnomusicologist John Blacking observes, "Through musical interaction, two people create forms that are greater than the sum of their parts, and make for themselves experiences of empathy that would be unlikely to occur in ordinary social intercourse." Žingora workshop participants have the opportunity to experience this first-hand through traditional songs, group improvisations and experiential learning.  The workshop setting in the woods of upstate New York provides additional inspiration as participants listen and respond to birds, trees, wind and rain. Iva explains, "As a musician working in folk traditions, living in harmony with and paying close attention to the sights and sounds of the woods has always been a crucial component to my personal inspiration.
My music is based on contact with nature. To access a natural, present musical moment within the group, I encourage students to center themselves away from the noise and distraction of technology and stressful day-to-day activities."
Weekend vocal workshops are open to students of all ages and levels of ability.  They can also be tailored for private events including corporate team-building, school programs and work with choruses.
Contact us with any questions or requests.
Weekend Vocal Workshops
in Rhinebeck, NY
* up to 2 months in advance
Weekend Vocal School Overview
Our gatherings adapt to the capabilities of each student, focus on individual expression, and develop each participants' unique vocal or instrumental message in the context of our shared space.  Sessions begin with a gentle warm-up of the voice and body, introductions, as well as exercises to foster listening and group cohesion. Structured improvisations are introduced along with Moravian, Slovak and Roma folk songs.  Expert teaching on topics such as overtone singing and breath support are interwoven throughout the course. Two delicious home-made lunches are provided.
A highlight of the weekend is a private concert by Iva, Timothy and friends for students and community members.
As your guide, I encourage you to separate your abilities from your fears, to take baby steps and giant leaps, to learn many different approaches, styles, and techniques, and to play with everything you learn as freely as a child.
– Iva Bittová
Friday 2 pm – 3 pm: Greetings and orientation
Friday 3 pm – 6 pm: Workshop
Saturday 9 am – 12 pm: Workshop
Saturday 12 pm – 2:30 pm : Light lunch and relaxation
Saturday 2:30 pm – 5:30: Workshop
Saturday 8 pm: Duo concert with Iva Bittová and Timothy Hill,
plus special guests
Sunday 10 am – 1 pm: Workshop
Sunday 1 pm – 3 pm: Light lunch and preparation for student presentation
Sunday  3 pm – 4:30 pm : Student presentation
Sunday 4:30 pm – 5:30 pm Goodbyes and departures
 * Students  are responsible for their own accommodations and transportation.  Rhinebeck is easily accessible by train, with a variety of nearby lodging options.
Special Guest: Jan Čižmář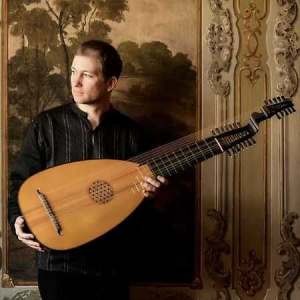 Jan Čižmář is a versatile performer focusing on historical plucked instruments. He performs regularly in Europe, Asia and the USA with ensembles such as Royal Concertgebouw Orchestra, Orchestra of the Age of Enlightenment, Orchestra of the Eighteenth Century, Rotterdam Philharmonic Orchestra and Capella Cracoviensis, and under conductors such as Frans Brüggen, Christopher Hogwood, Giovanni Antonini, Yannick Nézet–Séguin and Christina Pluhar. He appears also as soloist with baroque and renaissance repertoire.
After graduation in guitar and musicology in his native Brno he studied at the Royal College of Music in London, where he began playing the lute in the class of Jakob Lindberg. He continued his studies at the Royal Conservatory of The Hague with the teachers Nigel North, Joachim Held, Mike Fentross and Christina Pluhar. He was the founder and editor of the Czech guitar magazine Kytara and contributes regularly to other musical periodicals. He is also intensely involved with publishing and research activities in the field of early music.
Jan Čižmář taught lute and related instruments at the Karol Szymanowski Academy of Music in Katowice in Poland; currently he is teaching at the Janáček Academy of Music and Performing Arts in Brno and at the Academy of Ancient Music at Masaryk University in Brno. He regularly gives courses and masterclasses in Europe and overseas.
Early Bird Fee
Zingora Weekend Vocal School
* up to 2 months in advance
Regular Fee
Zingora Weekend Vocal School
Summer

August 11. - 13. 2023

(Please send a deposit of $150 by August 1

to reserve your place.)
Private Lessons
Private Lessons - in person or online
Contact us for more details and offer
"A powerful, emotional and insightful journey".
This workshop allowed me to let go of control and allow space for pure creativity that is within me to come out. 
The combination of improvisation and nature welcomes the space for the purest form of creativity. 
"This experience of safe vulnerability, connection, and deep listening was a paradigm shift for me as both a creative person and a teacher.  Learning through guided exploration, rather than directive, explicit, instruction, is a powerful reminder to trust my own, as well as my students', innate ability to access skills, insights and creative solutions. Thank you for this unique opportunity, your masterful facilitation, your beautiful music and open hearts." 
–  Carri A., M.S., CCC-SLP
The weekend with you was very special for me, too.  When time allows, I will elucidate. 
As for a statement, I think you liked something I said after our command performance along the lines of "This is the way growing up should have been." Perhaps you wrote it down at the time?  Maybe more on that Bunches of thanks and hugs to both of you for creating an amazing experience.  I am still resonating Žingora.
Video From Weekend School
Zingora Vocal School
Rhinebeck, New York, USA